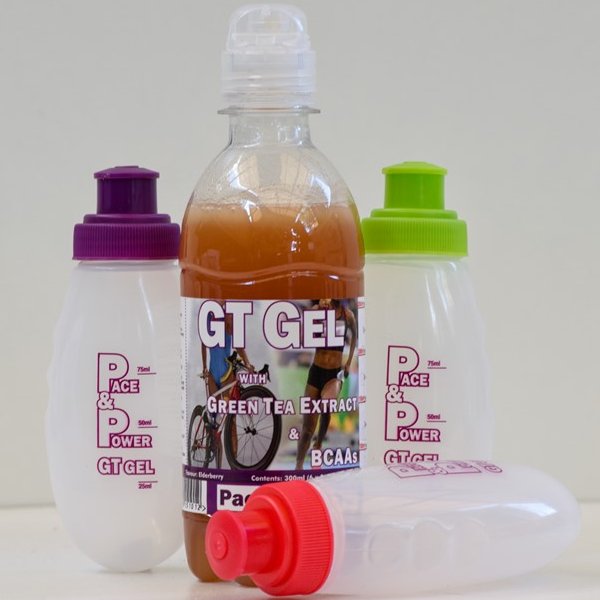 FAQ: How to use the GT Gel and the decanting bottle – MTB or road cycling, trail or road running
If you're an Enduro Rider (Roof of Africa/ Romanics /Impi etc), go here for instructions.
Each GT Gel contains 300ml of GT Gel: This is enough to race approx. 6-10 hours on water alone, depending on the intensity and nature of the sport.
GT Gel enables you to race/train with JUST water in your water-bottles or hydration pack.
How? Simply decant the GT Gel into the little, re-usable Pace & Power decanting bottles. (Leave the flask containing the rest of GT Gel in the refrigerator). Each little re-usable gel bottle holds 110mls of gel, enough to complete ~3 hours of racing/training with a moderate-to-high heart-rate. (Approximately 30km of running; or 3 hours of road cycling or MTB). Take little sips of GT Gel intermittently over the 3 hours. Continue hydrating with water as usual.
Our re-usable gel bottles are available with different coloured lids so that you can plan and follow a regime during a long event.
No sticky fingers! (or pockets)
No litter!
You can use GT Gel in 2 different ways:
1. GT Gel with JUST WATER:
If you prefer to train/race with just water in your hydration pack or waterbottles, then the GT Gel is for you!
Simply sip from the (filled) little decanting bottle, sip intermittently over 3 hours – as you do with your water. If you follow this approach, you'll ensure an even intake of carbs and electrolytes over the hour (unlike a traditional gel sachet).

Always ensure adequate hydration with water to assist absorption (See suggestions below)
2. GT Gel with your Sports Drink:
Top up the electrolyte and carbohydrate content your sports drink by sipping GT Gel throughout the event. This is a great option if you prefer to water-down your sports drink because it has become too sweet during the event.
If you run out of your EnduraPower, or you feel like switching to racing/training with only water in your water bottles/hydration pack, then sip GT Gel intermittently over the hour, as described in point no. 1 above.
Suggested Hydration Rate:
Always ensure adequate hydration to assist absorption!
It has been suggested that you hydrate according to bodyweight, your sport and individual requirements. Suggestions have included 8ml-10ml fluid/kg of bodyweight/hr. (This varies widely according to individual requirements/preferences and the nature or intensity of your sport).
For example, if you weigh:
60kgs – Drink approx 480ml-600ml water per hour
75kgs – Drink approx 600ml-750ml water per hour
100kgs – Drink approx 800ml-1 litre per hour
Note: Extreme sports, such as Enduro Motorbike riding, may require higher hydration = 10ml-11ml fluid/kg of bodyweight/hr.
For best athletic performance, use together with EnduraShake, EnduraPower, PaceLyte, Souties and Joobies.
11 Reasons to enjoy the little decanting GT Gel bottle (as opposed to the old sachet idea)